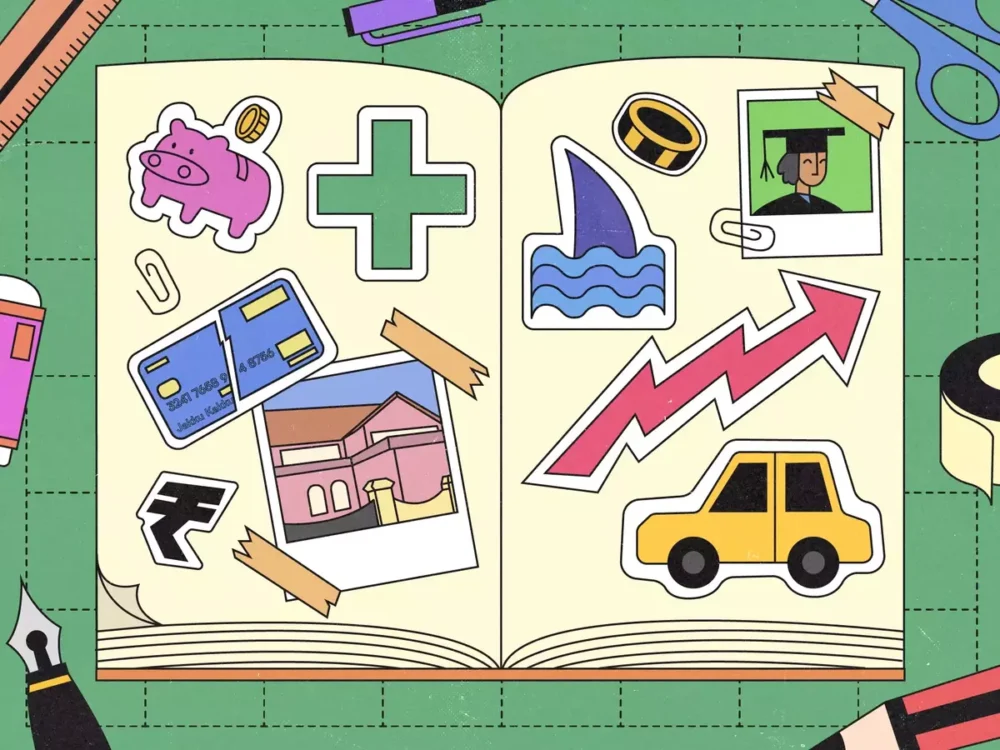 Illustration by Pratik Bhide for 1 Finance Magazine
Our financial choices are inextricably linked to the life experiences we have and our behavioural traits, and by extension, our MoneySign®. We hand-picked members from our team at 1 Finance to answer a simple question — what has shaped the way you deal with money? Scroll on for their responses.
Early Lessons
My parents taught me the value of money at a very young age. My siblings and I got a ₹500 note as pocket money, and no one could give us change because we, as kids, were looking to buy items like samosa (₹2) and Pepsi (₹5). Imagine giving ₹500 for that! My mother used this as a way to get us to value money — she got us a money bank. The rule was that we would give our ₹500 note to her and she would give us money as and when needed. By the end of the month, we would calculate how much money was left over. The entire year's savings could be spent on our birthdays, for whatever we most desired at that time. We understood budgeting, calculating our net worth based on income and expenses, and then converting our savings into valuable possessions. This lesson helped my sister and I to start building our savings and our wealth creation story right from our first jobs. I still plan my year, set aside money for my expenses, track them and save what is extra so that I can use it for a life goal.
Nidhi Mehra, Vice President, Brand and Marketing
MoneySign®: Virtuous Elephant
Money Well Spent
I consider myself very frugal when it comes to spending on myself. When my wife and I decided to buy our first car, I was obviously looking for the best value for money, so the requirement was very clear — a small, low-maintenance car that runs on CNG, a fuel that's least expensive. We ended up buying the exact opposite — an automatic sedan that runs on petrol. I spent extra but got a lot more in return in terms of peace of mind while driving, enough and more room for long trips (which was a boon when we had to travel with our cat, Mr. Bean), and most importantly, discovering the fun in driving. I learnt that value cannot always be measured in the amount that you spend but also in the experiences that spending that amount continues to deliver for you and your family.
Shardul Purohit, Executive Assistant to Founder
MoneySign®: Persistent Horse
Insurance Goes a Long Way
In my family, everybody is a senior citizen and aged, which has made me realise the importance of having health insurance from early on in life. Also, following an unforeseen incident in a loved one's life, I got to see the importance of having term insurance. The payout from a term insurance policy helped them move on with their lives and not be burdened by liabilities left behind. It was my nudge to buy term insurance.
Anooj Mehta, Vice President, Partner Success
MoneySign®: Enlightened Whale
Learning to Plan Ahead
I never realised the importance of money before the pandemic. When I started working, I never saved enough for myself, shelling out all my money on things that were not important at that moment. But after the pandemic, my parents advised me to save some money that I could use during tough times. I decided to make some investments that can yield good returns over a period of time. I even bought my first house in Mumbai, and while I still have an obligation to pay off my loan, this investment gives me the mental peace of owning a house. After taking insurance for my property and loan, I was also motivated to go ahead and get insurance coverage for myself.
Aditi Sharma, Senior Executive, Human Resources
MoneySign®: Far-sighted Eagle
Family First 
When I started my career, I used to trade in derivatives and used my entire salary to do so. After getting married, my priorities changed. I started saving at that time, but the interest rate was low compared to other equity-related products over the long term, and this is when I decided to switch from trading to investing in a disciplined manner. Since I had been making wise investments in a planned manner for a number of years, I was able to buy a car within my budget without taking out a loan for a high-end vehicle, which has made my family and me happy. After a few months, I  also bought a home with the help of a home loan. This decision helped me build an appreciating asset with good debt in my book.
Akhil Rathi, Vice President, Financial Concierge
MoneySign®: Vigilant Turtle
Investing in Yourself
My brother and I lost our father when we were very young. Our mother always ensured that she spent money on what was necessary and not on luxuries. This pushed both of us, especially me, to find ways to earn extra — and we did this through sports, which helped us to be sharp, work hard and value money. When I completed my college and wanted to go for a master's degree, the fee was too high, and I thought it would not be feasible. At that point, my mother came forward with the payment and told me that she had planned for this since we were kids because she wanted to invest in our education, which mattered more to her than any other luxury. This gave me the motivation to work on myself and helped me envision my role as a product and startup initiator.
Koushik Sur, Vice President, Digital Products
MoneySign®: Tactical Tiger
Diversification is Key
I've been fortunate to have been brought up in an environment where money talks constituted a large part of our dinner-table conversations. By the time I was in college, I was already acquainted with various investment avenues. My parents always stressed upon certain concepts like diversification and having multiple sources of income to experience peace of mind and build wealth in the long run. I, on the other hand, tried concentrated trading and burnt my fingers a couple of times before realising the wisdom in their words. Since then, I have started to systematically invest in multiple asset classes and experienced the difference. I have also never owned a credit card in my life — I believe you should spend from what you possess and not what you might earn in the future. This automatically avoids over-spending and, in turn, maintains your peace of mind.
Manit Ankhad, Vice President, Crypto Research
MoneySign®: Opportunistic Lion
Caution Ahead
Being born and raised in a business family, taking up a corporate job was an unpopular decision that did not garner much support. It would always lead to awkward conversations at family gatherings. This slowly brought out an urge to prove myself, and my psychology outplayed me. I would always hunt for that one multibagger stock or a 100x real estate deal. This behaviour slowly became a responsive habit and each time I would hear of any discounted or stressed asset sale, I would rush for it. This habit paid off initially as it was backed by some logical evaluation of risk and rewards, but once I started succeeding, I began overindulging in this high-risk, high-reward game. It was not until 2014, when my overconfidence led me to invest in a real estate deal that proved too good to be true, that I learned that everything on discount is not a value buy — and while you may have the financial risk appetite to take some high-risk calls, the amount of psychological stress you go through may not be worth it if it exceeds your emotional tolerance level.
Keval Bhanushali, Co-founder and CEO
MoneySign®: Stealthy Shark
Your MoneySign® is a framework that helps you identify the ways in which your personality may influence how you manage your personal finances. Knowing your MoneySign® is the first step to attaining holistic financial well-being, a state where you can be at peace and in control of your financial journey.