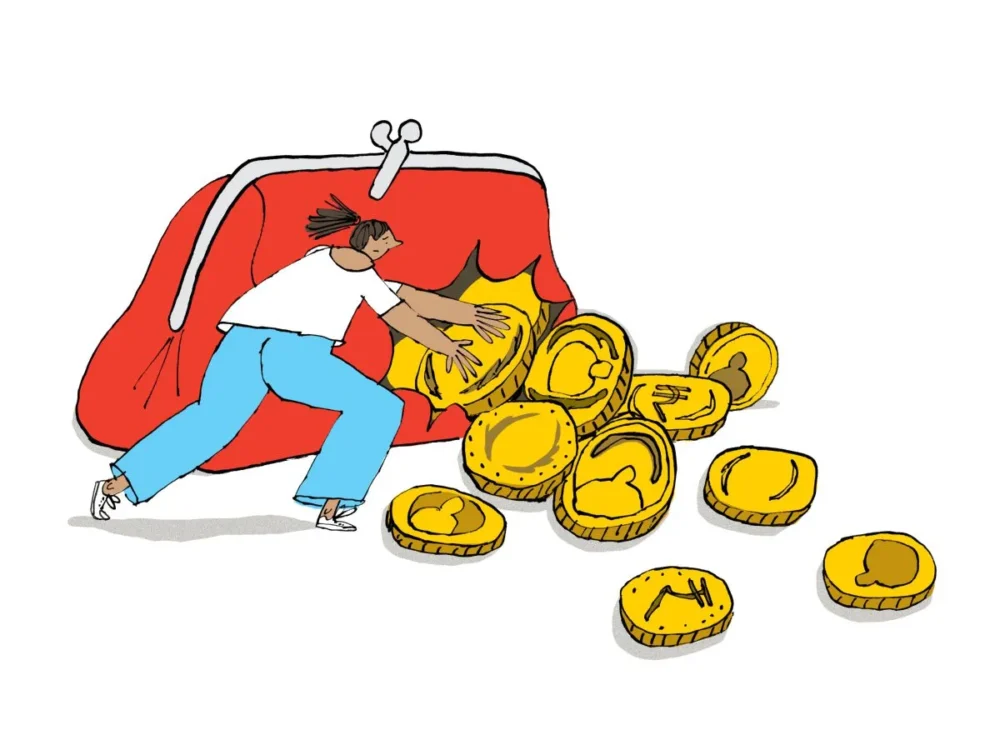 Illustration by Yogee Chandrasekaran for 1 Finance Magazine
In everyday transactions of late, you might've noticed a gradual spike in the price of fuel, groceries, or even cab fare — all of which are consequences of the depreciation of the Indian rupee. This is the fall in the value of the rupee against the US dollar owing to a rise in demand for the dollar. Like many other currencies, the rupee fluctuates in value quite often. When this happens, it not only impacts the economy of the country at large but also burns a hole in the pocket of the average consumer.
Due to various factors, the value of the rupee has witnessed a 25% decline since 2014. This is an emerging effect of inflation, slow economic growth and, more recently, the meteoric rise in crude oil prices owing to the Ukraine–Russia war.
India is a large importer of popularly consumed goods — including electronic appliances, edible oil, iron, and steel — as well as the raw materials required for manufacturing them — a majority of which are distributed through retail channels. In fact, about 86% of our imports are reportedly invoiced in dollars. An increase in the value of the dollar makes imports costlier, and manufacturers pass on this cost to the end consumer. For instance, the steep prices of commonly used electronic items like phones, laptops, and TVs or more extravagant purchases like luxury vehicles are due to importers having to pay a high price for the components required to manufacture these products in India.
The trickle-down effect of the rupee's falling value is reflected in the way we manage our finances. Rising fuel prices have a snowball effect on the distribution and retail costs of consumer items, and this increase affects monthly budgets and weakens the purchasing power of consumers. For instance, fuel inflation creates a preference for bio-fuels that tend to use animal feed, like maize, which in turn has to be substituted by other grains, like wheat — leading to more demand and higher prices for food grains, a phenomenon that ultimately reflects in your grocery bill.
Another way depreciation affects personal finances is by setting off a rise in interest rates on EMIs. High inflation causes the RBI to increase the repo rate (the interest rate at which the RBI lends to commercial banks) — as of August 2022, the repo rate had risen by 50 basis points — which in turn resulted in higher lending rates. This has a direct effect on those with personal loans or who pay their credit card bills in instalments.
That said, while rupee depreciation might seem like a setback to your finances, careful planning can help you turn the situation to your advantage. To start off, a periodic review of your financial portfolio can help you better estimate your returns on investments in prevalent market environments. Steering your investments towards companies that deal in a substantial level of foreign exports to the US — like those in the FMCG, IT, automobile or pharmaceutical sectors — is an effective way to secure your portfolio against the fall in rupee value. Having a diversified portfolio and clear documentation of past investments helps not just in better planning of your current finances, but also in envisioning and achieving a more stable future, even if the value of currency struggles to remain steady.