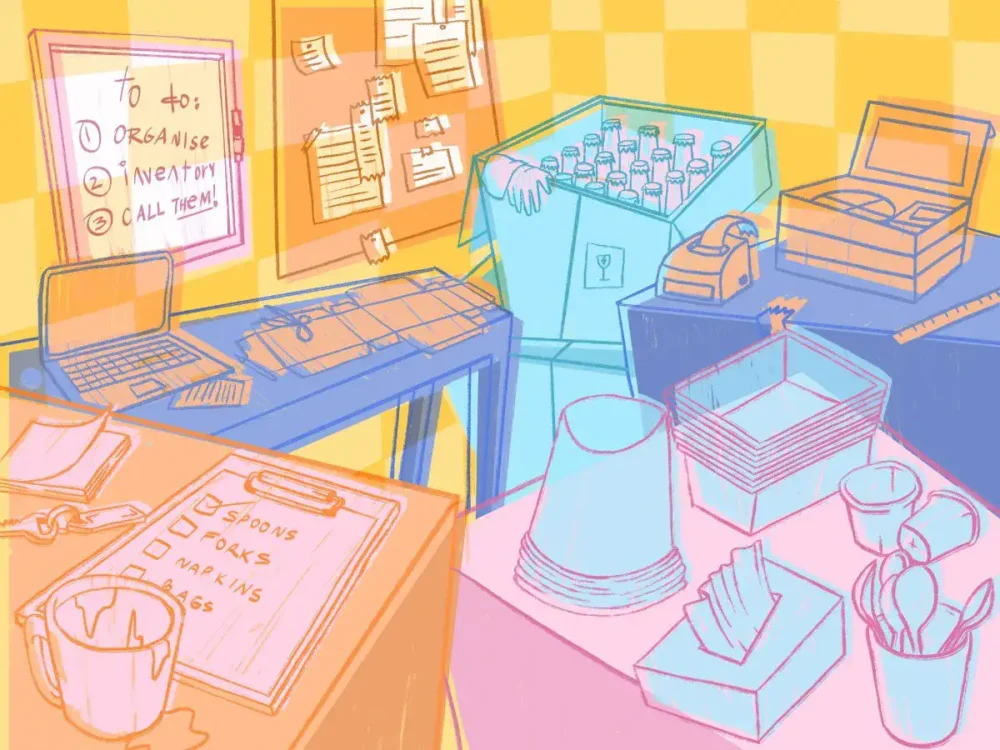 Illustration by Ekisha Poddar for 1 Finance Magazine
The lockdowns were undoubtedly hard on business owners and entrepreneurs across industries. But a sector that saw a swift comeback was the food industry, creating comfort and cutting-edge innovation, bringing together feasts and fundraising. We reached out to the people behind some of India's leading fine-dining restaurants, tech start-ups, direct-to-consumer brands and other successful ventures to pick their brains about the financial lessons they learnt during the pandemic, and will hold on to for years to come. Read on.
Run a Tight Ship 
Aditi Dugar
Director and Founder, Masque, Masque Labs, Sage & Saffron, and TwentySeven Bakehouse
We've always run a very tight operation, from hiring the right people who are able to multitask and are highly skilled, to maximising our resources, whether in terms of produce or packaging styles. During the pandemic, this worked in our favour when we had to refocus our offerings and find new and interesting ways to engage with our audience. Our brands launched DIY meal kits for home delivery and organised a tailgate event that brought patrons to our mill complex for a drive-in, socially distanced restaurant experience. We also managed to optimise operations during the lockdowns, saving on electricity and rent, by having all our brands work out of a single kitchen — it also helps, of course, that we're all located within the same mill complex.
Plan for Risks
Arshiya Bose 
Founder, Black Baza Coffee Co.
Although Black Baza Coffee is a specialty coffee brand, we work with over 650 coffee producers, all of whom are smallholder farmers. This meant that the livelihoods of a large group of farmers and their families relied on Black Baza's financial well-being. During the pandemic, our business almost halved — many of the institutions and cafes we had been supplying coffee beans to for years had either temporarily or permanently closed. However, as a farmer-first business, we were unable to transfer these losses to our partner producers. Our big learning was understanding how imperative it was for a social enterprise like ours to plan for risks like pandemics. We now undertake a fairly rigorous risk-planning exercise, which takes into account future risks like climate change, and have also begun to explore non-traditional sources of finance. For example, despite our lowered revenues, when we had to provide additional support like the setup of a mobile ambulance, our community of coffee customers came on board and were able to raise funds in just a few hours. The pandemic has reinforced that it takes a village in every sense.
Always Read the T&C
Kainaz Contractor 
Co-founder and Chef, Bhawan and Rustom's Parsi Bhonu
Our work on Bhawan started before the pandemic. We'd never really raised funds for our company from outside our friends and family, and for the first time, given the scale we were hoping for, we turned to a bank loan. We got a very good interest rate and a collateral-free loan, and were thrilled to start work — then the pandemic hit. We had to reassess everything from a long-term perspective, and ended up losing a lot of money — we had to strip down everything we were building and move out of our rented space. But the biggest cost was the moratorium we took on the loan without fully considering the terms and conditions. We ended up paying a lot more. It was a difficult time — and we were trying to hustle and make it work during the lockdown, doing whatever we could just to keep the company afloat so that we could pay our staff and keep it running. We chose to keep that little cash flow in the company as opposed to paying off our EMI on a monthly basis, which in retrospect, was the wrong move. Things have bounced back now, but my takeaway is to always, always, always read the terms and conditions of a loan, especially when you're raising it from external sources.
Focus on the Bottom Line
Krishi Fagwani
Co-founder and CEO, Thrive Now
The pandemic witnessed a ton of financial setbacks across all industries, but also gave us true insight into the detail and prioritisation it takes to make a business function. When we were in a financial crisis, our priority was to survive first and then work on 'Thrive-ing'. It allowed us to focus a lot more on the bottom line and profitability, instead of looking at growth at all costs. This insight gave us the grit to work on a business model that allowed our customers i.e. restaurant partners to focus on building their own direct ordering solution with us, instead of paying up to 30–40% to aggregators.
Don't Compromise on Your Vision
Prateek Bakhtiani
Chef and Founder, Ether

It is hardly a new or unique insight to pine over the incredible effort, passion and patience it takes to build a brand from the ground up, especially one in the luxury marketplace. Weaving luxury into existence is an often-romanticised, painstaking exercise not in knowing what to do, but instead what not to do. This approach inevitably leads to a balancing act between craft and commerce, and I can proudly say that at Ether I have always chosen craftsmanship over commercially lucrative yet artistically translucent projects. Then Covid happened. In 2020, I had to force myself to make decisions whose primary focus was to 'push sales'. This meant making more widely accessible products, reducing prices, exploring cheaper packaging, etc. And here's what I learnt from it: it might take incredible effort, passion and patience to build a luxury brand from the ground up, but it takes only three months of losing sight of the heart behind it to breakdown almost everything that makes it tick. The decisions I made paid off in the short run — we made enough money to make it through the pandemic slump, and then some. But in doing so, I came out the other side with a different brand than the one with which I went in. Over the last year, I have spent a lot more time and money trying to refocus the brand, to bring it back to the place of intention with which I had dreamt it, and I will always thank the pandemic (warts and all) for teaching me the value of not making snap decisions or indulging in solutions du jour. For seeing the forest for the trees, if you will.
Keep Cash Flows Going
Rohan Rehani
Co-founder, Moonshine Meadery
Moonshine meads is an alco-bev brand. In India, this means an offline-only business with a 60:40 dependence on restaurants and retail — both of which were shut during the lockdown and continue to keep getting impacted with every wave of the pandemic. My biggest takeaway from the pandemic months is a reinforcement of the old business adage: cash is king. During the first lockdown, every avenue for sale was shut down overnight. In a crisis like this, where there are no revenues, you do your best to conserve what reserves you have left, cut costs as much as possible and find ways of generating (some) cash ASAP. All this while keeping team morale up! First, the entire organisation volunteered to take pay cuts, which allowed us to avoid any layoffs and also extended our runway dramatically. Simultaneously, we reached out to the authorities and volunteered to make WHO-grade hand sanitisers. With permissions in place within 96 hours, we repurposed our tanks to make hand sanitizers. While we donated nearly 40% of our total production, the entire activity kept cash flows going. But most importantly, it gave the entire team a sense of purpose at a time when not much made sense. This helped keep morale high and ensure almost negligible attrition.
Turn to the Consumers
Ruchi Jain
Founder and CEO, Taru Naturals
Covid made us focus more on e-commerce, which ended up being really good for business. It was a time that saw us switch from solely B2B to also investing in B2C, as well as moving from a proprietorship to a private limited company. This switch to becoming private limited demanded a relook at our accounts and compliances. We had to reapply for several licenses, given that we're in the food and produce space. It took a lot of time to conduct these audits and streamline these aspects of the business to make sure everything's in place. We also learnt the importance of creating a cash reserve — going B2C led to more money upfront that we used for this purpose. This working capital has been very useful post-Covid.