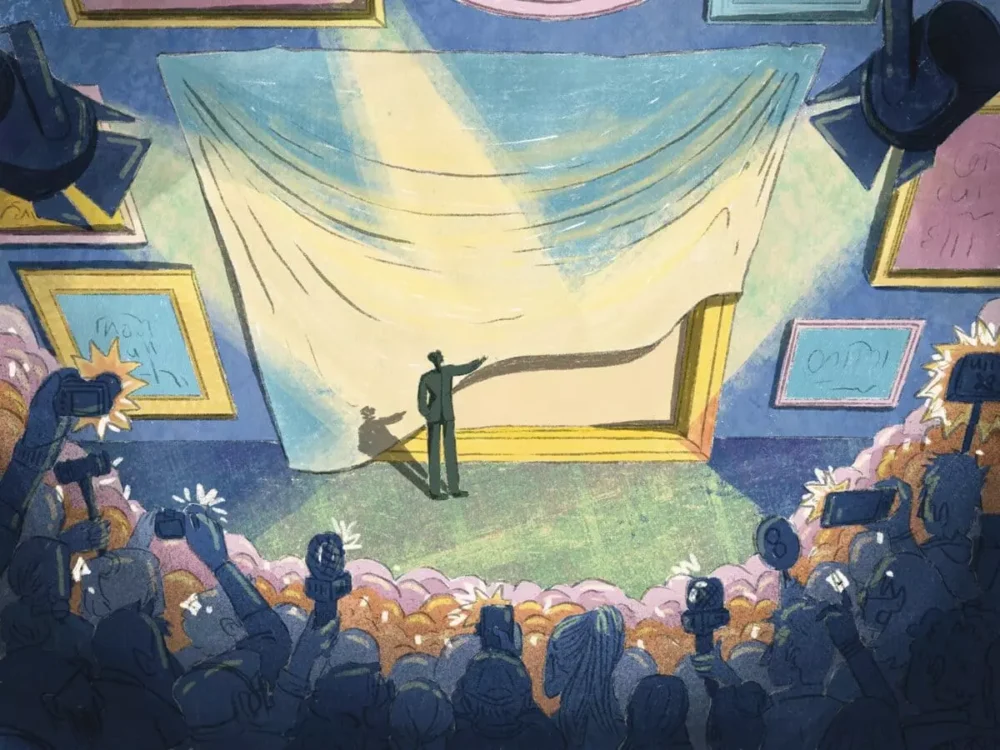 Illustration by Saachi Mehta for 1 Finance Magazine
In March 2021, Mike Winkelmann, better known as Beeple, sold his work Everydays: The First 5000 Days for a whopping $69 million at a sale by the 257-year-old auction house, Christie's. Six months before this history-making event, the digital artist, who gained prominence primarily through social media, had made his highest sale on a print for $100, reported The Verge. 
It was a watershed moment. Part of the appeal of Everydays was that it was an NFT or non-fungible token, still a mystifying new technology in 2021, which was about to change the way art was sold and owned. But why Beeple? Was it just a random draw of the cosmic straw that set up this little-known man, in a sea of digital artists, to disrupt the art world?
The fact is Winkelmann had been putting forth new artworks in the Everydays series, well, every day, for 14 years. With these often quirky, occasionally crude images, Beeple had built himself a fan base of over 2.5 million across platforms. The prestige of a house like Christie's, and the sale, assigned legitimacy to him, and to NFTs.
You'll often hear that art is a tangible, long-term, collectible asset class, the playground of the uber-rich where vintage cars, watches and wine are also things to 'invest' in. But, at the same time, especially for those venturing into these waters for the first time, it is important to know that this is a high-risk environment.
You may want to invest in art driven by pure passion or with the intention to resell at a profit. But what do you do if you are an aspiring art investor but don't have the disposable income of Everydays buyer Vignesh Sundaresan? Is it possible for a layperson to identify the next big thing in the art world — the next Beeple or the post-NFT phenomenon? The good news: You can, but also, you don't have to. 
At a basic level, a work of art — painting, sculpture, photograph, multimedia installation, film memorabilia or even GIF — that is rare or the original version will likely grow in value over time. Cases in point: Monet's Water Lilies, Van Gogh's The Starry Night, and MF Husain's Horses can command astronomical sums of money at auction today, as long as they are originals and not giclees, prints or posters. 
The NFT's main purpose is also to establish the authenticity and uniqueness of an artwork created digitally. But even if you've bought an original artwork, how do you know its value will appreciate? At least with contemporary or digital art, it's more challenging to do — and that's the bad news about investing in art. The art market is especially difficult to navigate because, being a cultural product, its valuation is subjective.
Unlike real estate, whose value goes up and down depending on relatively calculable metrics — such as economic climate, location, infrastructural development and access — art's market value can depend on some arbitrary factors, such as aesthetic appeal, novelty, the artist's reputation, or even the current global mood. It's why all gallerists and collectors have one piece of advice: Do your research. 
Gallerists, like Bhavna Kakar of Delhi's LATITUDE 28, advise visiting local museums, galleries and art fairs regularly, subscribing to art magazines, setting a budget, scouting for art and artists that speak to you, seeking originality and, importantly, holding on to receipts, invoices, authentication certificates and other documents. She also stresses the importance of maintenance and care, insurance and documentation.
Education is the backbone of investing in art. In a piece for Architectural Digest, Shireen Gandhy, Director of Chemould Prescott Road, another gallery, comments that prices of artworks vary from artist to artist, depending on their exhibition history, and the size and medium of their work. It's why knowing periods of an artist's career and eras of art — like 20th-century modern or 21st-century contemporary Indian art — and understanding schools and styles (for example, the Baroda versus the Bengal school of art) is fundamental. 
But what about when you're ready to put your art back on the market? Online platforms like Etsy, eBay, Artsy and Saatchi Art are buzzing with collectors selling their art. But if you know you have something of higher value — having checked in with a specialist, studied the chain of ownership and found that your piece has a unique provenance, or done your research on the Indian Art Index, created by IIM Ahmedabad and Mumbai-based gallery Aura Art — then it might be time to call the auction houses to consign your collection. 
At the end of the day, investing in art is neither easy nor risk-free. Indeed, most industry insiders say that thinking of art as investment alone will work against you. The fundamental rule of buying art is to finally buy what speaks to you. As Kakar puts it: "Hone your eye, buy what you like and don't follow listicles or auction picks for starters, live with your first purchases and then move ahead."
Nidhi Gupta is a freelance writer and editor based in Mumbai.