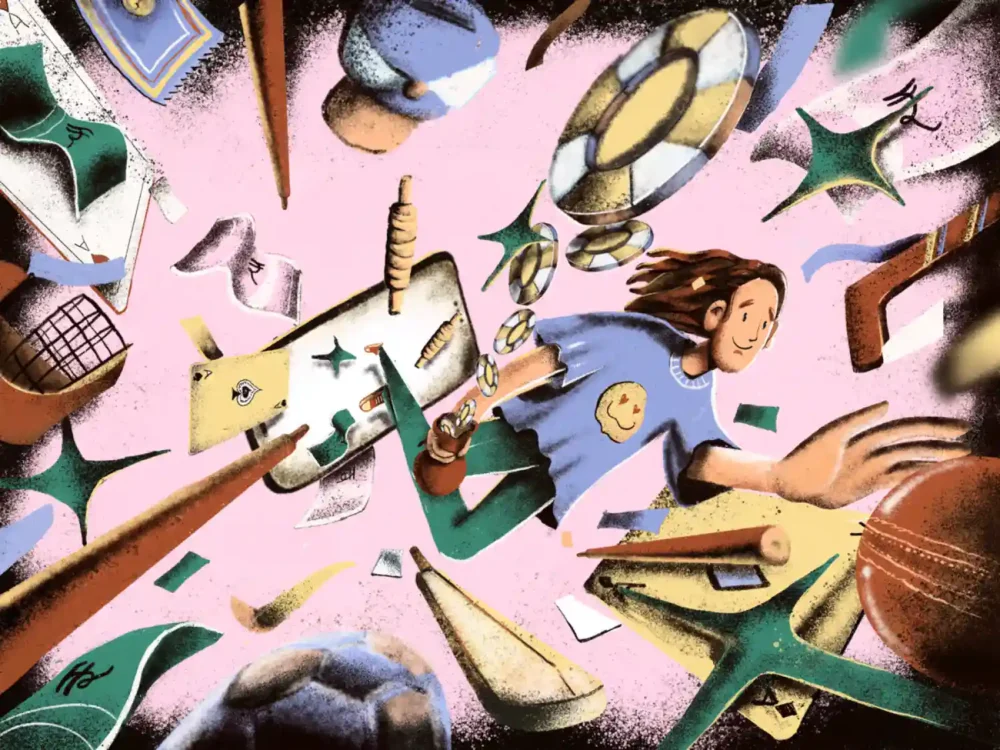 Illustration by Tushar Madaan for 1 Finance Magazine
In 2017, at the height of Premier Kabaddi League's popularity, Joseph George created his kabaddi team on the then emerging fantasy sports platform Dream11. With an entry fee of ₹33, he assembled a team of top scorers, raiders and defenders, but in an unusual choice, also picked Vikash Kandola. Kandola's performance hadn't been particularly spectacular that season, but that day, he played exceptionally well. George won the princely sum of ₹50,000.
George, who works in sports broadcasting, hit the jackpot three more times, playing through PKL and the Indian Super League with this trick of picking one player who he felt was demonstrating potential but hadn't yet shown results. "I used to play regularly back then," he says, "I used to be invested in the sport. I'd look at practice runs, previous match performances and team news; count every permutation and combination, creating multiple teams and just doing everything to make sure I was winning." As for that money: After a 30% tax cut — a rule that applies to winnings of ₹10,000 and above on Dream11 — he could withdraw it almost immediately.  
George may have been an early mover, but over the past five years or so, sports lovers have taken to this format of participative sport so completely that India is now considered to be the world's biggest fantasy sports market, according to a Federation of Fantasy Sports–Deloitte report. A whopping 13 crore people are now regulars on apps like Dream11, My11Circle, MyPlay11, Mobile Premier League (among others). By 2025, the market size for fantasy sports is projected to reach ₹1.65 lakh crore. 
Cricket is naturally the biggest engagement driver, but football, hockey, kabaddi and other sports have their patrons too. And the allure of fantasy sports is strong. "You know how sports fans are," says Abhishek Nair, a sports management graduate from Loughborough University in the UK. "Everyone has an opinion, and everyone wants to show off their knowledge. Dream11 and fantasy sports in general taps into this impulse. If you know so much, why don't you make money off of it?"
And money has been made, hand over fist. Nair remembers picking Harbhajan Singh as the captain of his fantasy cricket team in a 2018 Chennai versus Mumbai IPL match. He had paid an entry fee of ₹21 and ended up winning ₹4,000. "But I was in the end disappointed. Singh was having a really good game, which meant I was soaring in the Dream11 rankings. Then Imran Tahir dropped a catch off his bowling. If he hadn't, I could have won a few lakhs that day." 
For a tech-savvy, largely young population in a country where sports is more popular as an avenue of entertainment than ever before, it is that interactivity and ease of making money ("there are no channels, no additional steps, no middlemen in getting your cash") that is especially alluring. It's getting tougher to win, George and Nair tell me: As fantasy sports have advanced, getting more nuanced and detailed, every tiny movement on the scoreboard now has a massive impact on the player's standing. 
Naturally, it can also get addictive. "Betting is illegal in India, but fantasy sports platforms have found a way to bypass those laws; they call it 'playing', not 'betting'. They're very careful with the terminology," says Nair. "But as a player, there is always the temptation to put in more to be able to take away more." While he exercises caution in this regard, never exceeding ₹30 by way of investment, he also feels that fantasy sports platforms could do more by way of messaging about playing responsibly — something that he has seen betting apps in the UK, like Paddy Power and Sky Bet, undertake intensively. 
But the game is afoot. "There are people who watch and follow the sport obsessively," says Nair. "I know people who would put money on a Zimbabwe vs Namibia cricket match on Dream11. They would've done their research, opened the teams' last 10 – 15 score cards, seen how each player is playing. There are people who go to that extent of analysis before they invest." And those investments can lead to huge rewards, sure. "But at the end of the day, no matter how much you analyse, it's sports. It's a live match," says Nair. "You can only predict so much." 
Nidhi Gupta is a freelance writer and editor based in Mumbai.