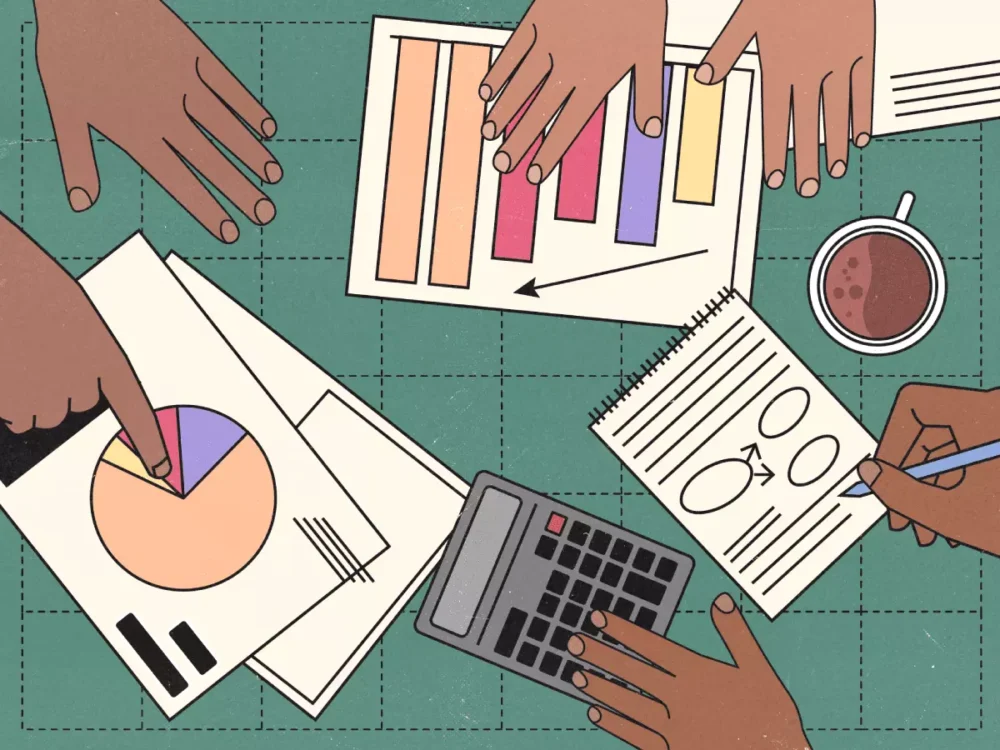 Illustration by Pratik Bhide for 1 Finance Magazine
As a financial institution, we think of 1 Finance as a place that takes care of everyone who is a part of it, which includes people seeking financial advice as well as those who offer it. When we started out, it was clear that our members would need access to qualified, unbiased and actionable advice that helps them manage money more efficiently and brings them closer to being at peace with their finances. We sought out some of the most well-regarded, prominent and trustworthy independent financial advisors in the country and invited them to be a part of our committee for qualified financial advisors (QFAs). 
We assembled the 1 Finance Advisory Committee for Qualified Financial Advisors — Mumbai Chapter to further our goal of building a more honest, transparent and fulfilling ecosystem for personal finance advisory in India. Our market research in this space identified the problems individuals often encounter in the traditional advisory process as well as the predicaments QFAs (Certified Financial Planners® and Chartered Wealth Managers®) face — regarding reaching out to clients, earning their trust, collecting their financial information, and so on. The committee helps us find solutions for these larger problems that exist in the industry, in addition to providing guidance to our members and helping us connect with the wider community of financial advisors. Overall, the committee represents the interests of members and financial advisors within the 1 Finance ecosystem.
We put together our QFA committee through a rigorous selection and review process, wherein we considered their qualifications, experience, client base, the volume of assets they manage, and product or service expertise. We also factored in their entrepreneurial ventures, location, media presence, community engagement, ideas for the future of this sector, and alignment with our mission. These are all advisors who resonate strongly with our mission of creating sea change in the personal finance advisory space. 
This entire exercise of searching for advisors, addressing their concerns, and familiarising them with our ethos has been more than two years in the making — and we're proud to have now established the Mumbai Chapter of our QFA committee, comprising 15 industry experts who work with clients across various backgrounds. The committee allows us to further our credibility and legitimacy with the work we do and also works to create awareness about the benefits of qualified advice. It helps us gain a deeper understanding of the challenges that plague the industry at present and find solutions to achieve our larger aim of making India's personal finance advisory space more responsible and transparent. 
Having the 1 Finance Advisory Committee for Qualified Financial Advisors in place complements the tools that 1 Finance provides QFAs. 1 Finance removes hurdles that advisors often encounter — with respect to data collection, technology, client assessment and engagement, logistical issues, etc. — by directly connecting them with advice-seekers and giving them all the information they need from the get-go. The advisors can focus solely on the task of financial planning, without having to worry about onboarding new clients or other operational challenges.
We conceptualised and built tools like MoneySign® to offer insights into the financial behaviour of individuals, 1 View to offer a consolidated view of a person's financial standing, a Financial Health Score that indicates one's financial status based on key metrics, Algo-Assist™ to sort through a range of financial instruments and help advisors hand-pick the right ones, and so on. All of this, and more, is used by our QFAs to fine-tune a holistic Financial Wellness Plan every quarter, which caters to the unique needs and goals of members. QFAs add value to our offerings through exclusive interactions with members. Based on a member's financial exposure, net worth, age, needs, goals, etc., we use a matching logic to pair members with the QFAs who are best-suited to collaborate with them. The frequency and duration of these sessions will depend on the needs of a member and the availability of their QFA. For immediate assistance in case of emergencies, our financial concierge service is at a member's disposal.
Trusting someone with your money is a long and slow process, especially in India, where people are not too comfortable discussing money in general and are unaware of the regulations that govern the role and responsibility of financial advisors. This is further complicated by the financial services industry's reputation as a space with rampant mis-selling by unethical or amateur professionals. Our QFA committee comprises people who largely run their own independent practices, and work with 1 Finance as consultants. They do not have any vested interests in terms of pushing certain products or meeting any targets. Their purpose is to dispense honest and unbiased advice to help create and grow wealth.
Moving forward, we hope to expand the committee further and include more chapters. We want to play our part in creating a more honest and fulfilling environment that allows advisors to do what they're best at — offer actionable, reliable guidance for achieving financial freedom — without having their judgement or advice clouded by sales targets or commission-based incentives. We hope that, over time, eradicating these conflicts of interest also encourages more people to become financial advisors who are keen to have an impact. In turn, the members who are at the core of all our offerings are bound to benefit from their interests being served and protected.