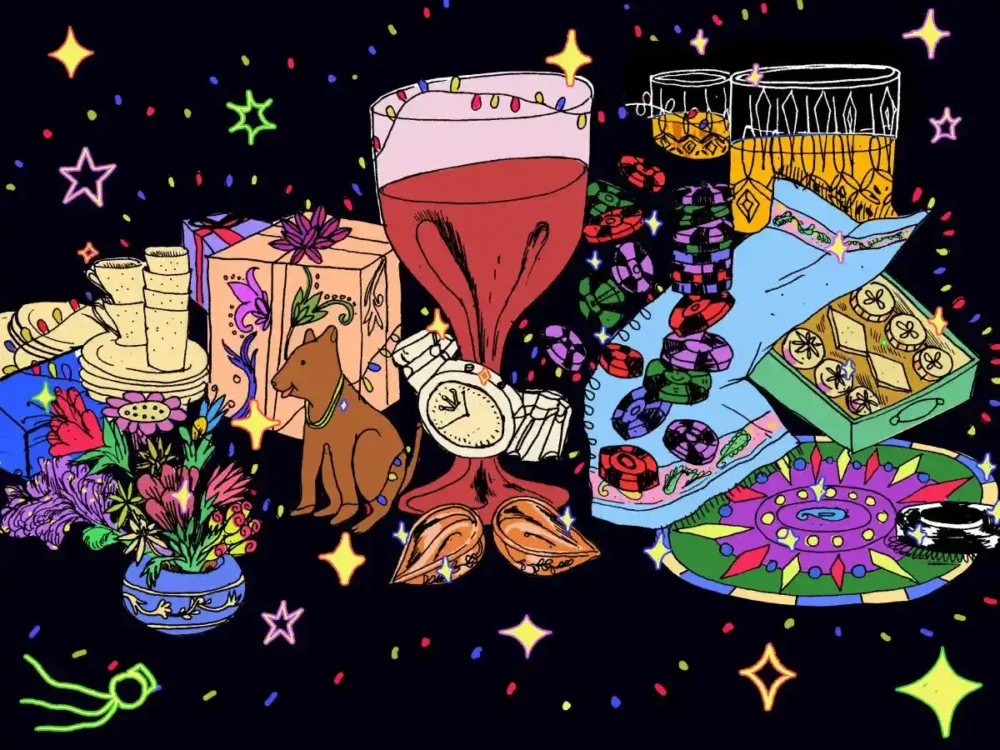 Illustration by Anand Shenoy for 1 Finance Magazine
Buy a box of 24 carat gold-leaf mithai. The guilt won't be about the calories.
Arrange a wine tasting for your taash party. Spend the rest of the night watching your friends raise the stakes, while you're cleaning their wine spills before they set.  
Gift your parents their hearts' delights, bundled in personalised wrapping paper, stamped with your full name and gold stars — so they know you did something meaningful with your life.
Order custom flower arrangements for your family dinner. They might wither soon, but then again, so will you. 
Put on a fireworks show with your name and number displayed at the end so everyone in the neighbourhood can personally thank you. 
Get a new set of wine glasses so you can finally stop pretending your collection of eclectic remainders from previous sets is a bohemian choice. 
Get yourself a hand-woven pashmina shawl. Use it while you can because the world is getting warmer. 
Buy the latest Rolex watch. Time your friend's bathroom runs and politely suggest a high fibre diet. 
Gift your dearest friends gourmet hampers and secretly hope that they make their way back to you, just like some of your gifts last year. 
Buy a new set of brass diyas you will use just once, to replace the set you bought last year, which you bought to replace the set you bought the year before… you can't break tradition.
Get a Roomba to help with Diwali cleaning and act as the friendly pet for the nervous introverts attending your house party. 
Buy a 500-chip poker set, so you can spend your bonus and win it back.
Gift yourself an exquisite 16-piece ceramic set that comes with its own professional chef and plater, as well as an Instagram food photographer so you can do it justice.
Invest in a gold chain for your future daughter or dog, whichever comes first.
Get that Egyptian cotton high-thread count bedspread to add a festive pop of colour to your bedroom and for when you sink into bed dramatically after checking your bank balance.
Jessica Jani is a multimedia journalist and editor based in Mumbai.